Community Call is dedicated to building equitable, safe and successful communities in Boston by providing pathways for disadvantaged youth to become self-sufficient, valued, and productive members of their communities through civic engagement. Our vision is One Boston through community collaboration and engagement to maximize opportunities and positive outcomes for Boston youth.
Who Is Community Call?
Current Student Programming
Youth WOKE (Working on Knowledge & Equality) Our student advocacy group addressing racial issues in the Boston Public Schools (BPS) and Community working independently but in collaboration with BPS Administration For more information click here!
​


The Boston Homeless Youth Task Force (BHYTF) is a youth-led, youth-run outlet for youth ages 18-24 who are currently or formerly homeless to advocate, raise awareness, and create strategic solutions to end and prevent youth homelessness in the Greater Boston area.
​
Click here for more information!
---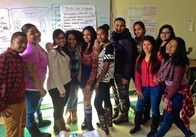 Calling Allston-Brighton high school students for our Youth Leadership Program at the Presentation School Foundation Community Center in Oak Square in Brighton, beginning
November 1st
. More info can be
found here
---
Community Engagement Opportunities:
Community Call Recognition:
Awards & Recognition:
- Boston City Council 2015 Recognition for Outstanding Work with Boston Youth
​- Harvard Allston Partnership Fund Awards 2015 Recognition by Harvard and the City of Boston for Community Work with Allston Students
- Boston Youth Services Network 2015 Community Champion

"It has been an inspiring experience to sit with groups of students and hear their ideas, pitches, and dreams about making events that will positively influence their peers. Through Community Call, students are able to find their voice, follow their passions, and discover the success that comes from seeing a project through to the end, a skill that will benefit them significantly in their future educational and professional endeavors." Shari Davis - Director, Boston Mayor's Youth Engagement & Employment Office

---

Community Call on BNN News below!

Boston's Chief of Health & Human Services, Felix Arroyo